Long Term Villa Rental in Seminyak Center, Bali, Indonesia, 3BR with Private Pool in
---
Seminyak Center long term rental Villa Carissa 3-bedroom
You found one of the best Seminyak Center long term Villa rental or annual rental in Seminyak, with a private swimming pool. Beautiful three bedroom villa in the Seminyak area, this property comes with a fully furnished double story. This villa is located in a strategic location in seminyak area with an area of 220m² land (2 368 ft²) and 180m² (1 937 ft²) building.
With 3 bedrooms, 3 bathrooms in a quiet location, only 1 minute walk the heart of Seminyak, very coveted district of Oberoi, in 2 minutes you will be in the heart of the action, 10 minutes walk also from the beach, the restaurant the Kudeta and all the trendy shops and yet you will enjoy its charm, peace and quiet as if you were away from it all. The house is extremely comfortable, with AC in each bedroom, 3 bathrooms, TV, unlimited high speed wireless internet.
In Seminyak, there is even a street called "Eat Street" known for a large number of restaurants and groceries. So, go and taste these new flavors because fortunately, the discovery of a culture also goes through taste! And Villa Carissa is literally situated in the Seminyak Center.
Villa Carissa 3-bedroom long term rental
How much is our yearly and monthly rent?
1 year rent: IDR 1 000 000 000 (around AUD 101 000 or EUR 60 800 or GBP 52 000 OR CHF 58 000).
Monthly rent: IDR 130 000 000 (around AUD 13 200 or EUR 7 900 GBP 6 700 OR CHF 7 500).
Inclusive of:
Cleaning service: 3 times/week
Pool cleaning: 2 times/week
Internet
Banjar fee + security (district contribution).
Bin collection
Electricity and water
Laundry for linen and towel laundry
Cancellation:
Non-refundable. No modification.
Payment:
All payments must be paid in Indonesian Rupiahs (IDR), at once, and up front.
Contact for long term rental:
Please kindly contact us for your Seminyak Center long term rental villa.
Info:
To comply with the local authorities, we will need a copy of your ID card. Please kindly note for all foreigners, we will need a your copy of ID card/passport with visa or KITAS (Indonesian residence permit) valid if you're renting for 1 year or more. Thank you.
Once you're agreed with our long term rental, we will give you the lease contract.
Villa Carissa's location for your Seminyak Center long term rental villa
For example, you can walk to Ku De Ta beach club for only 12 mn….
For information, you can rent daily, weekly, monthly and yearly at the Villa Carissa Seminyak Center.
3 Bedrooms at Villa Carissa
The Villa Carissa features a bright and spacious master suite designed modernly with traditional Balinese touches. Providing cool air-conditioned room, comfortable and relaxing space to unwind after a long day of adventures.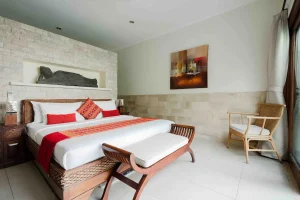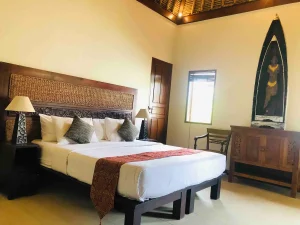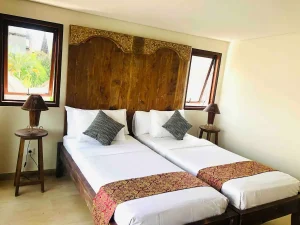 The private bathroom of the bedroom is one of the strong points of the villa with its magnificent bathtub in the room downstairs. Ideal for a relaxing soak or a fun flower bath, bask in the luxury of the warm, deep waters with a book or meditative music. Also featuring a rain shower and modern amenities, the en-suite bathroom brings an extra touch of extravagance to The Villa Carissa.
Outdoor spaces
Villa Cariisa has a private terrace and out-door private pool providing a relaxing and sunny spot to spend a lazy day. Whether you like to enjoy the sun or hide in the shade, the terrace is able to meet everyone's needs. You can stand in the pool or lay back for an afternoon siesta. It's the perfect intimate villa extension for spending some quality one-on-one time with your loved one in a tropical paradise.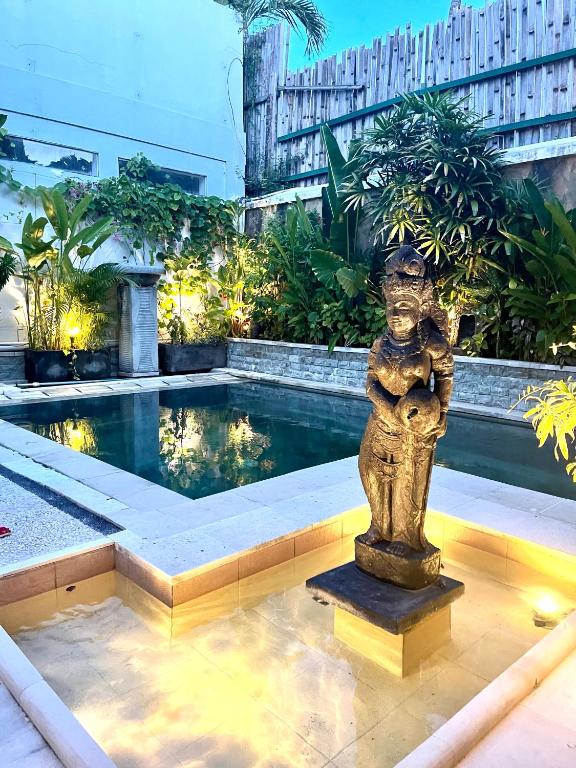 Interior spaces
The enclosed living room of Villa offers a cool escape from the Bali sun. Filled with colorful decor and Balinese touch, it's a contemporary space to spend tropical evenings dining on delicious local delicacies.
The equipped kitchenette is ideal if you are looking to prepare homemade meals or snacks throughout your trip. Serve your treats on the dining table or order from the room service menu to sample dishes cooked by the in-house chefs. The quaint living room features a relaxing sofa, perfect for kicking back with your favorite book. Surrounded by windows, the room fills with natural light while allowing you to enjoy the magnificent view of the garden and the sea.
Staff and services
Villa Carissa managed by a team of friendly and dedicated staff. With housekeepers and security, you can rest assured that you are in safe hands. Offering uncompromising service to help arrange additional services such as chefs, spa treatments and tour drivers, the team wants to ensure you have the most memorable trip. Read also: Seminyak Center long term rental Villa Carissa 3-bedroom
Seaside Villa in Seminyak
During your stay in Bali, Villa Carissa is ideal for beautiful evenings with friends with drinks around the pool or on the balcony. You can easily prolong the party in the various bars and nightclubs around.
The main living room is a large open space combining kitchen, dining room and living room, spacious enough to accommodate 7 people (see our room configurations). In the garden, the downstair bedroom offer a view of the swimming pool. Each bedroom has its own bathroom. The bathrooms are closed and it invites you to relax. The modern-traditional architecture is great. The roofs in alang alang (Indonesian thatch) bring an incredible height under ceiling.
Every morning, the villa attendant and serves your breakfast. If you want to organize a special dinner, call on a chef who will come and cook directly at your villa. This villa has all the assets to make you spend an original and exceptional stay with several people.
Located in the tourist town of Seminyak, you are close to all amenities, directly accessible on foot: beach, shops, restaurants, nightlife… It takes about 20 minutes by car to reach your villa from the airport.
This seaside town is often described as "bobo chic". Discovering Bali is possible with a private driver for the day. Live unforgettable experiences such as rafting on the river in the middle of the jungle or an elephant back safari in a beautiful wooded park.
It takes 10 minutes to reach the KUDETA beach on foot. In the surrounding streets, many spas invite you to relax. It is not excluded to leave for the day with a private driver to discover the sumptuous landscapes of the island of the gods. Please Google our address to see more of the surrounding streets: https://g.page/villacarissa
Beaches in the neighbourhood
Petitenget Beach: 650 m (0.40 miles)
Seminyak Beach: 650 m (0.40 miles)
Double Six Beach: 800 m (0.49 miles)
Batu Belig Beach: 900 m (0.55 miles)
Legian Beach: 1.6 km (0.99 miles)
Learn more about villa for year-round rental in Seminyak Central, Bali
Seminyak centre, a well-known and touristic area in the south of Bali. If you want to rent in a lively area, which offers you many activities, and which will allow you to never get bored, then Seminyak is the right place for you!
Several very different neighborhoods in Seminyak
Seminyak, a popular tourist destination in Bali, Indonesia, offers diverse neighborhoods with unique atmospheres and attractions. Here are several very different neighborhoods you can explore in Seminyak:
Eat Street, also known as Jalan Kayu Aya or Oberoi Street (where Villa Carissa is located): Is one of the most famous and bustling neighborhoods in Seminyak, Bali. It earned its name due to the plethora of excellent dining establishments lining the street, offering a wide variety of cuisines from all around the world. Here's what you can expect at Eat Street: This area known as the trendiest part of Seminyak, Oberoi is filled with upscale boutiques, stylish cafes, and chic restaurants. It's a hub for fashion enthusiasts and foodies looking for a taste of luxury.
Petitenget: This area boasts a mix of high-end resorts and beach clubs, making it a favorite spot for travelers seeking a sophisticated and vibrant beach scene.
Double Six: For those who love the beach and nightlife, Double Six is the place to be. It offers a lively stretch of beach bars, clubs, and restaurants, attracting partygoers and water sports enthusiasts alike.
Batu Belig: A more laid-back neighborhood with a mix of traditional Balinese charm and modern villas. Batu Belig is perfect for those seeking a quieter and more relaxing atmosphere.
Dhyana Pura: If you're into the bohemian and artsy vibe, Dhyana Pura is the place to be. It's known for its creative art studios, yoga centers, and vibrant street art.
Each neighborhood in Seminyak offers a distinct experience, catering to various preferences and interests. Whether you're after luxury and excitement or a tranquil escape, Seminyak has something to offer for everyone.
You will find several very different neighborhoods in Seminyak. The Batu Belig district is concentrated around the main axis of Jalan Batu Belig. It is now a must in Bali. Indeed, you will find many unmissable restaurants such as Strawberry Fields or Watercress, but you can also do a lot of shopping there, relax in a spa, or share a drink with friends in one of the many lively bars in this area. area.
Read also: Seminyak Beach Club | Chic, Glamorous and Flashy | Perfect For Both Day and Night
This district has also become a must for its perfect location: halfway between the center of Seminyak and Canggu, it is the ideal place if you want to stay close to these two lively areas of the island.
Batu Belig
This area is also located just a few minutes by scooter from Umalas, which will offer you proximity to schools and in particular to the Lycée Français de Bali. Around this area also offers you its beach and its many bars and beach clubs: we particularly recommend the Tropicola, this beach club will immerse you in a colorful and modern atmosphere, and you can enjoy the swimming pool during the day, and enjoy tasty dinners there.
Petitenget area
The Petitenget area is also a highly developed area of ​​Seminyak. Located just two or three minutes by scooter from other areas of Seminyak, you can also find many trendy restaurants like Clean Canteen, bars, and nightclubs if you like to go out. Petitenget Beach, quieter than Seminyak Beach, will offer you peace facing the Indian Ocean.
We particularly recommend the Mano, a much less known beach club, which will allow you to enjoy the beach in a heavenly setting. You can do many activities in Petitenget, if you like Balinese culture, the Petitenget temple will immerse you in the heart of Balinese authenticity.
Oberoi or Kayu Aya street is often described as the chic neighborhood of Seminyak
This area of ​​Bali offers many restaurants and high-end shops. You will find Vin + Seminyak, a restaurant where you can enjoy tasty dishes around quality wines.
You can also enjoy the beach in this area, the Ku De Ta is the perfect beach club to admire a magnificent sunset. Kayu Aya Street, the main axis of this area of ​​Bali, offers an impressive number of shops, restaurants, spas, and bars. If you like to go out, this is also the ideal place for you. You can spend an evening with friends at La Favela, a place that has become a must in Bali today for its heavenly decor.
Area near Sunset Road
Finally, area near Sunset Road. This area of ​​Seminyak is also extremely lively. Very close to Kuta, it is one of the most touristic places on the island. You will find plenty of restaurants, bars, shops, spas and gyms. On the beach of Double Six, you will find a lot of beach bars, with many colorful beanbags that create a unique atmosphere. To admire the sunset and share good tapas with friends, we recommend La Plancha. Also very close to Sunset Road, the main axis of South Bali, you will have quick and direct access to many other areas of Bali.
If you like entertainment, Seminyak is the city for you. By renting our villa for the year in this part of Bali, you can enjoy Balinese life in one of the most developed areas, and you will also stay close to other must-see places such as Berawa for example, only 15 minutes by scooter.
---
Ready to book your long term villa rental in Seminyak center?
Located in Seminyak Center – Bali, Villa Carissa offers a private swimming pool and enclosed garden to guarantee your privacy.
---