Benson Tower Surabaya Apartment 2BR For Rental, East Java
---
Benson Tower Surabaya Apartment 2BR For Rental
Experience urban living at its finest with Benson Tower Surabaya Apartment 2BR.
Dear Guests,
We are excited to host you and provide you with a memorable experience at Benson tower surabaya apartment 2BR. To ensure you are fully prepared for your upcoming stay, we have created below a digital welcome guide that includes all the essential information about our apartment and the surrounding area.
To make your check-in process smooth and seamless, we kindly request you to provide us with your approximate arrival time. You can do so by reaching out to us at +62 817 0333 9038. This way, we can be ready to welcome you and ensure a hassle-free check-in.
During your stay, should you have any questions, need assistance, or require any information, our team is available at +62 817 0333 9038. We are committed to providing you with the best service and ensuring your comfort throughout your stay.
Once again, thank you for choosing Benson Tower Surabaya Apartment 2BR. We are eagerly anticipating your arrival and are dedicated to making your stay truly enjoyable.
If you have any further inquiries or need additional support, feel free to contact us anytime. We look forward to hosting you and providing you with a wonderful experience in East Java.
Warm regards,
The Benson Tower Surabaya Team
The Property
Nestled in Lontar, West Surabaya, The Benson Tower Surabaya Apartment 2BR spans across 54 m² (581.25 ft²) and presents accommodations featuring a private pool with captivating poolside views. Offering serene garden vistas, the property is conveniently situated 11 km (6.8 miles) away from Pasar Turi Train Station Surabaya and the Sharp Bamboo Monument.
Enjoy a cozy, bright, elegant experience in our 2 bedrooms apartment. You will also enjoy easy access to everything from this center of West Surabaya. Our accommodation is in Benson Tower, directly connected inside Pakuwon Shopping Mall, which allows you to enjoy Surabayan exquisite foods, bringing shopping, entertainment and convenience right at your door steps.
Free access during your stay to our outdoor swimming pool and gym areas. If you like golf, this apartment is only 4.1 mi (6.5 km) from Ciputra Golf Club. Our apartment is located 10 mins from the highway, within 40-60 min car ride from Juanda Int. Airport, it is a gateway to Bromo, Ijen and Malang.
This air-conditioned apartment is fitted with 2 bedrooms and 1 bathroom with a bidet, a shower and free toiletries. Offering a balcony with city views, this apartment also features a flat-screen TV, a kitchen and 1 bathroom.
Submarine Monument is 12 km from the apartment, while Gubeng Train Station is 12 km from the property. The nearest airport is Juanda International Airport, 21 km from Benson Tower Surabaya Apartment 2BR.
Bedrooms at Benson Tower Surabaya Apartment 2BR Available for Rental
The apartment features two bedrooms:
1st Bedroom: King-size bed (151-180 cm or 4.95-5.9 ft).
2nd Bedroom: Two single beds (each 90-130 cm or 2.95-4.26 ft), which are part of a drawer bed design, allowing you to pull out the bottom part to accommodate guest.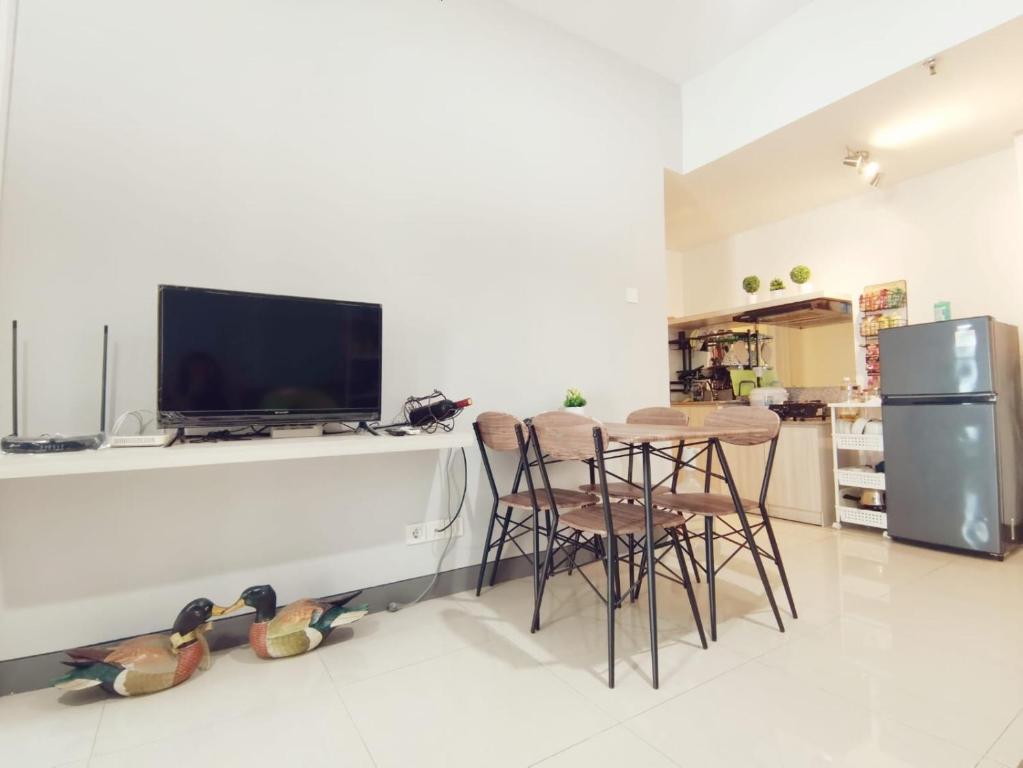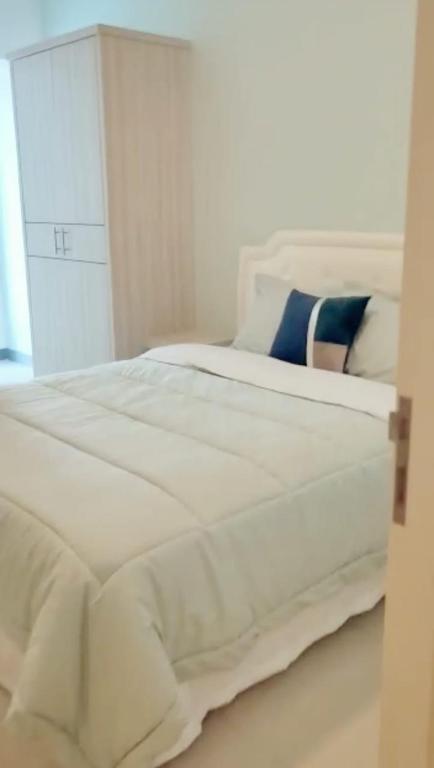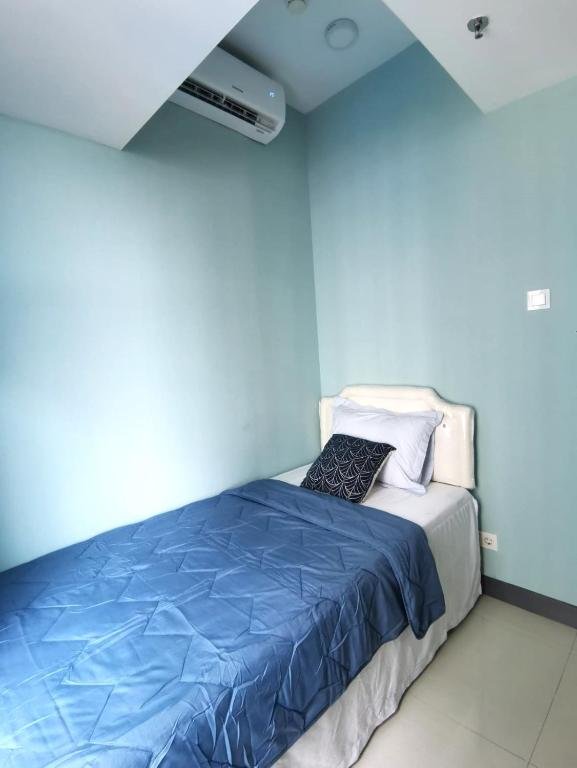 Living room
The living room in the Benson Tower Apartments Surabaya is designed to provide a comfortable and inviting space for residents and guests. With tasteful decor, ample seating arrangements, and well-appointed furnishings, it serves as the central hub for relaxation, entertainment, and social gatherings.
The airy and well-lit environment creates a cozy atmosphere, ideal for unwinding after a busy day or for spending quality time with friends and family. Whether it's enjoying a movie night, engaging in conversations, or simply embracing a serene moment, the living room offers a versatile and welcoming ambiance for various activities.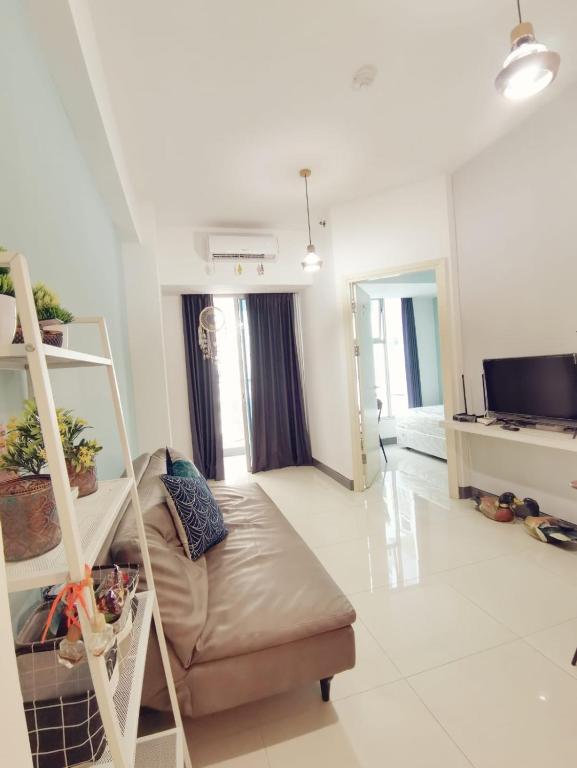 Kitchen and chinaware
At the Benson Tower Apartments in Surabaya, the kitchen is an inviting space tailored to meet your culinary requirements throughout your stay. It boasts modern amenities such as a refrigerator, stove, and other essential kitchenware, ensuring you have everything necessary to prepare delicious meals at your convenience.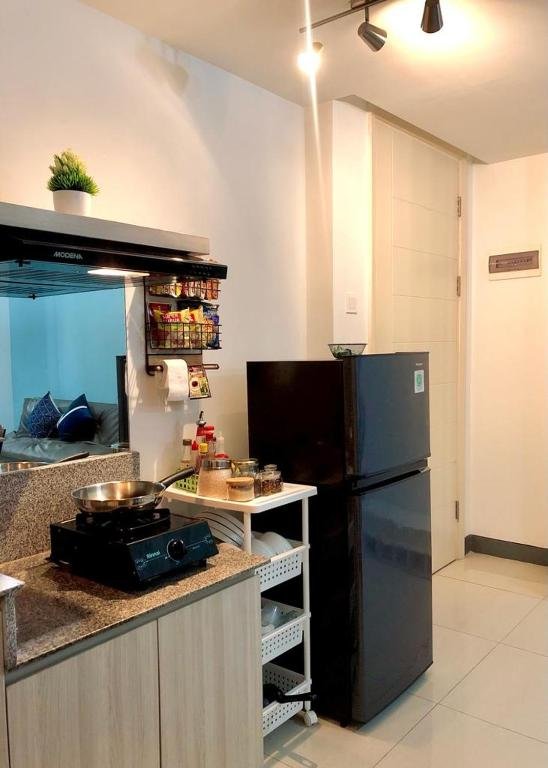 The carefully curated chinaware, which includes an assortment of elegant plates, glasses, and cutlery, complements the kitchen setup, adding a touch of refinement and convenience to your dining experience.
Whether you're planning a simple breakfast or a gourmet dinner, the well-equipped kitchen and thoughtfully provided chinaware at the Benson Tower Apartments cater to your needs, allowing you to dine comfortably and stylishly during your visit.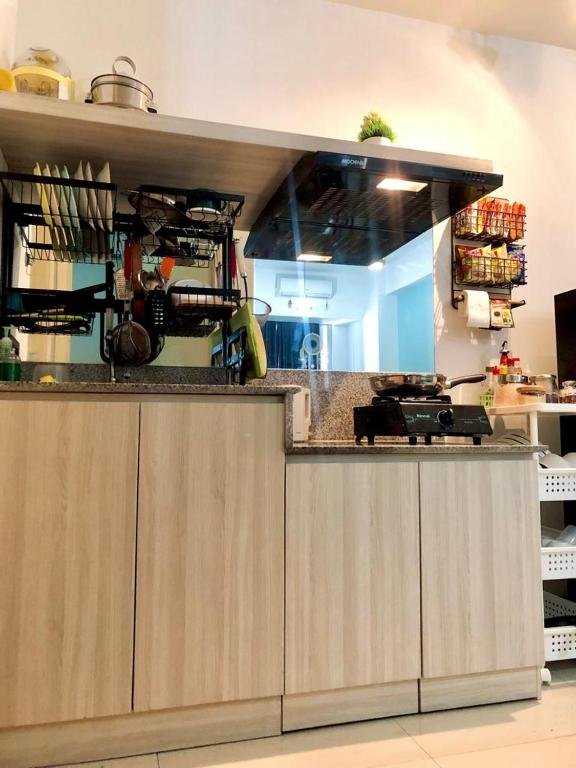 Bathroom
The apartment is equipped with one well-appointed bathroom, providing the convenience of a private space dedicated to personal care and hygiene. This modern and thoughtfully designed bathroom offers essential amenities, ensuring comfort and convenience during your stay.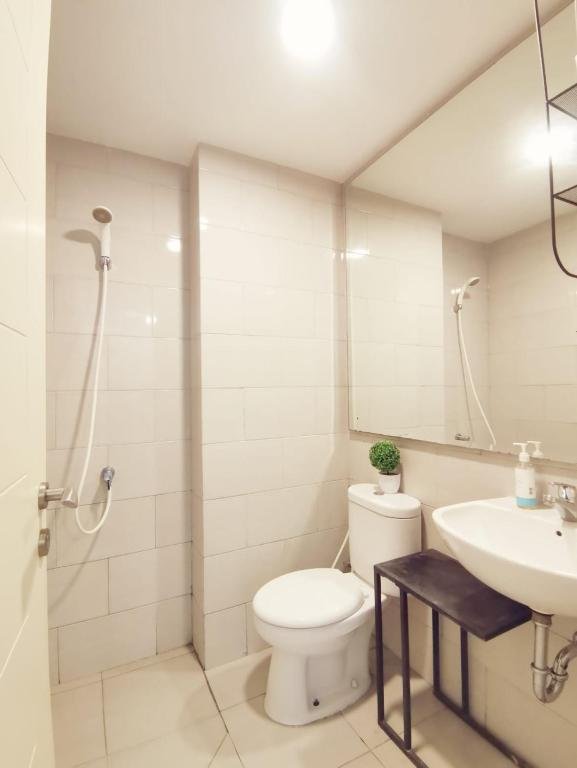 Swimming pool
The swimming pool at the Benson Tower Apartments Surabaya offers a delightful oasis amid the bustling cityscape. With its refreshing waters and inviting ambiance, the pool serves as an ideal spot to unwind and rejuvenate after a day of exploring the city or simply to bask in relaxation under the sun. Whether you prefer a leisurely swim or lounging poolside, this amenity provides a tranquil retreat within the vibrant urban setting.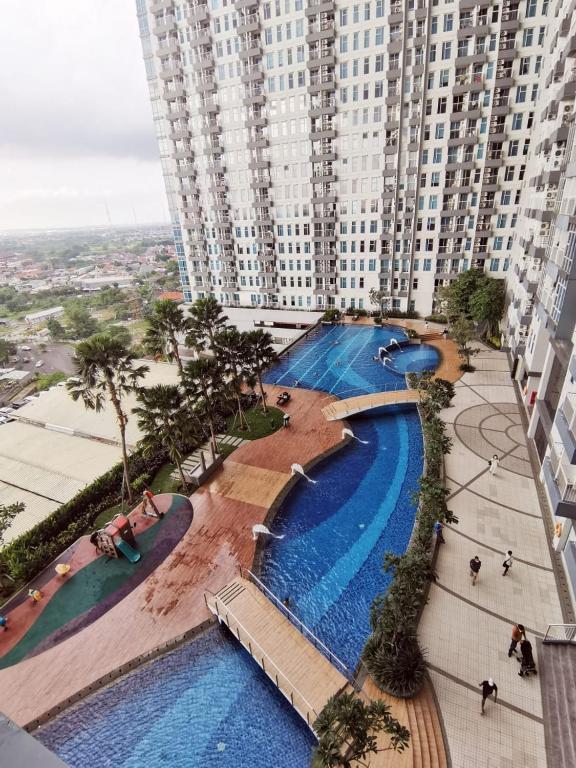 On top of the mall
An exclusive creation by Pakuwon Group, the Benson Tower offers a premium lifestyle! These apartments are situated atop Indonesia's largest mall, Pakuwon City, Surabaya, designed to complement the Pakuwon Indah Superblock development. Nestled within 30 hectares of prime development land, Benson Tower boasts proximity to 5 golf courses and 2 international five-star hotels.
Facilities Benson Tower
is equipped with an array of premium facilities that are designed to elevate your lifestyle amidst the bustling city of Surabaya. These premium amenities include:
Sky garden
Infinity-themed pool
Jogging track
BBQ area
Access card
Indoor & outdoor children's playground
Gymnasium
West Surabaya
Enjoy an elegant experience in this central accommodation. The whole group will enjoy easy access to everything from this center of West Surabaya. Our accommodation is in Benson Tower, directly connected inside Pakuwon Shopping Mall, which allows you to enjoy Surabayan exquisite food. Some amenities inside the apartment that will be provided are the outdoor swimming pool, access to the gym.
Jane is your host
She loves art, travelling and outdoor activities, museums, cooking and baking…
She said "Travel is naturally the best way to experience new things while also improving well-being. Please contact me for more infomation about Surabaya during your stay".
What to do in surabaya (dining, museums, public transports)
Dining Options in Surabaya:
Discover a diverse array of dining options in Surabaya, where culinary delights await to tantalize your taste buds. From budget-friendly eateries to upscale restaurants, here are five dining establishments with exquisite specialty foods:
Museums and monuments in Surabaya:
Monumen Tugu Pahlawan (Heroic Monument) and its Museum Sepuluh Nopember Surabaya (10th November Museum) are two significant landmarks in Surabaya that hold great historical importance and serve as reminders of the city's past. Link: https://www.tripadvisor.com/Attraction_Review-g297715-d379338-Reviews-Tugu_Pahlawan-Surabaya_East_Java_Java.html

Heroic Monument (Tugu Pahlawan). Ivuvisual, CC BY-SA 4.0, via Wikimedia Commons
Surabaya Square "Alun-Alun Surabaya" is located in the Youth Hall complex, Jalan Governor Suryo No. 15 Surabaya. The concept of the Surabaya Square building does not only function as a stage for arts and cultural performances. Surabaya children who want to develop their talents and interests in the arts can also take advantage of the square. Moreover, the Youth Hall complex is also equipped with a Cultural Hall, Library, Language and Mathematics House.

Alun-alun Surabaya. Ivuvisual, CC BY-SA 4.0, via Wikimedia Commons
Public Transport in Surabaya:
Surabaya Bus: Economical option for traveling within the city: Peta Bus Kota Surabaya /City BUS Map in Surabaya
Discover the comfort and convenience of the Benson Tower Surabaya Apartment in East Java. With its modern amenities and prime location, it offers a comfortable living space for those seeking quality accommodation. Enjoy the city views and the contemporary living experience this apartment provides. Whether for a short-term stay or a longer rental, Benson Tower Surabaya Apartment ensures a pleasant and convenient living environment in the heart of East Java.
---
Have you booked your Benson Tower Surabaya Apartment 2BR?
Located in the West part of Surabaya, this apartment is connected with the Pakuwon Mall. It allows you to enjoy Surabayan exquisite foods, bringing shopping, entertainment and convenience right at your door steps.